Introduction to Colloid Science: Applications to sediment characterization
Keywords:
colloid, clay, flocculation, consolidation, physico-chemistry, DLVO theory, rheology, sediment transport models, sediment particles
Synopsis
This book is meant as an introduction to the field of colloid science, i.e. the study of the behaviour of micrometric particles in a fluid (or a gas). The book was written with a special emphasis on sediment particles. Sediment particles are complex colloidal particles due to their composition, shape and interaction with their environment.
Characterization of the colloidal fraction of sediment is done by recording, among others, the particles' size, shape and electric surface charge and evaluating their density or their interactions. These properties are important for civil engineering applications. Large-scale sediment transport models for example require as input the settling velocity of particles. In concentrated areas, this velocity becomes a function of the particles' concentration and particle-particle interactions lead to the creation of larger particles, called flocs. These flocs can settle and, when reaching the bed, consolidate in time. All these aspects, and related models, are treated in the present book.
Downloads
Download data is not yet available.
References
Kruyt, H. R. editor. (1952)
Colloid Science. Vol. 1. Irreversible Systems. Elsevier.
A classic reference, with large contributions of J. Th. Overbeek
Russel, W. B., Saville, D. A., & Schowalter, W. R. (1989)
Colloidal dispersions. Cambridge university press.
A complete reference, especially suited for the theoretical modelling of suspensions.
Van de Ven, T. G. (1989)
Colloidal hydrodynamics. Academic Press. A great reference to understand the principles of colloidal hydrodynamics from first principles.
Hunter, R. J. (1993)
Introduction to modern colloid science. Oxford University Press.
A classic and easy to read reference to understand the fundamentals of colloid science, with limited derivations.
Hunter, R. J. (2000)
Foundations of Colloid Science. Oxford University Press.
A completely revised and updated edition of a classic textbook on colloid science
Shaw, D. J., & Costello, B. (1993)
Introduction to colloid and surface chemistry. Butterworth-Heinemann, Oxford.
A concise overall coverage of colloid and surface chemistry, well suited for getting a broad background on the topic.
Dhont, J. KG. (1996)
An introduction to dynamics of colloids. Vol. 2. Elsevier.
A great reference for detailed mathematical derivations and interpretation thereof
Hiemenz, P. C., & Rajagopalan, R. (Eds.). (1997)
Principles of Colloid and Surface Chemistry, revised and expanded (Vol. 14). CRC press.
A very complete book that help to familiarize with the fundamentals of colloid and surface science, characterization and measurements techniques.
Ohshima, H
Theory of colloid and interfacial electric phenomena. Vol. 12. Academic Press, 2006.
A classic book to understand the fundamentals and current developments in colloidal electrokinetic phenomena
Introduction to Colloid Science
G.J.M. Koper (2011)
An introduction to Interfacial Engineering. VSSD.
A concise but broad overview of various interfacial properties, including colloidal aspects
Mewis, J., & Wagner, N. J. (2012)
Colloidal suspension rheology. Cambridge University Press.
A recent book focussing on the link between microstructure and rheology, with limited derivations but multiple references.
Hunter, R. J. (2013)
Zeta potential in colloid science: principles and applications (Vol. 2). Academic press.
A recent reprint of a classic book focusing on electrokinetics, both theoretically and experimentally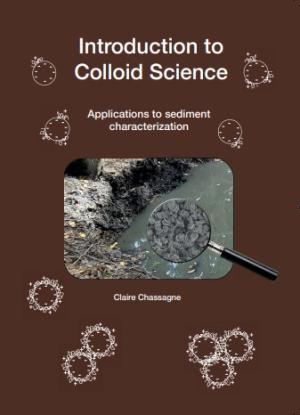 Downloads
Categories
Copyright (c) 2021 Claire Chassagne
License
This work is licensed under a Creative Commons Attribution 4.0 International License.
Details about this monograph
ISBN-13 (15)
97890-6562-4376
Date of first publication (11)
2019
Publication date (01)
2021-05-10