Spatial Building Typology (Volume 2) Vacant Heritage: Police Real Estate | The Netherlands
Keywords:
building typology, police real estate, vacant heritage, heritage buildings, spatial developments
Synopsis
The Dutch Police is one of the largest owners of public real estate in the Netherlands. From police station to forensic laboratory, from listed buildings in the centre of The Hague to large-scale facilities next to the motorway in Driebergen: the task of accommodating the Police is as diverse as it is challenging. Themes such as innovation and sustainability, health and safety, as well as identity, flexibility and affordability are all of relevance for the Police's accommodation strategy. Efforts are being made to strike a new balance between the physical, mobile and digital workplace.
Since the formation of the National Police, there has been an enormous challenge to accommodate the organization. In realizing this task, the police has the ambition to raise the quality of police buildings as well as the experience users have in the buildings. At the same time, the police is at the heart of an ever changing society: The accommodation needs to meet the requirements posed by several developments such as the energy transition, climate change and digitization. How do these developments influence the task of future-proofing (cultural) heritage? Which role can our heritage buildings play in these transitions?
The key lies in our present actions coupled with the lessons of the past. Different approaches on Built Heritage will open our eyes and help with today's issues. To see what is valuable. Will the decisions made in the past be our strength or pitfall? How will objects developed in the past, exposed to today's spatial developments, help us? Through the power of imagination, the Studio Vacant
heritage from Heritage and Architecture proudly reveals many possibilities.
Downloads
Download data is not yet available.
References
Bacon, E.N. (1974). Design of Cities. Harmondsworth: Penguin Books.
Eisenmann, P. (2008). Ten Canonical Buildings 1950-2000. New York: Rizzoli.
Eisenman, P. (2003). Giuseppe Terragni Transformations Decompositions Critiques. New York: The
Monacelli Press.
Fortier, B. (1989). La Metropole Imaginaire. Un Atlas de Paris. Brussels: Pierre Mardaga
Fonatti, F. (1982). Elementare Gestaltprinzipien in der Architektur. Vienna: Akademie der Bildende Künste.
Graff, Ph. (2000). L'Exception Urbane. Nice: de la Renaissance au Consiglio d'Ornato. Marseille: Editions Paranthèse.
Güney, Y.I. (2007). Type and Typology in architectural discourse. In: BAÜ FBE Dergisi, Temmuz 2007, 3-18.
Haraguchi, H. (1988). A Comparative Analysis of 20th-Century Houses. New York: Rizzoli. Jallon, B., & Napolitano, U. (2017). Paris Haussmann. Paris: Park Books.
Komossa, S., Marzot, N., & Floris, J. (2011). Tekenboek Stadsgebouwen. Functie-stapelingen, publieke binnenvelden, in één blok. Rotterdam: AIR.
Lewis, P., & Tsurumaki, D., & Lewis, J. (2016). Manual of Section. New York: Princeton Architectural press.
Madrazo, L. (1995). The Concept of Type in Architecture. Zürich: PhD Thesis 11115 ETH.
Molema, J.ea (1979). Gaudí rationalist met perfecte materiaalbeheersing. Delft: DUP. Molema, J. ea (1982). J. Duiker bouwkundig ingenieur. Rotterdam: Stichting Bouw.
Moneo, R. (1978). On Typology. In: Oppositions, MIT press 13 (1978) 22-45.
Radford, A. (2014). The Elements of Modern Architecture. London: Thames and Hudson. Schneider, F. (1994). Floor Plan Atlas. Basel: Birkhaüser.
Zijlstra, H. (2009). Analysing Buildings from Context to Detail in time: ABCD (in time) research method. Amsterdam: IOS Press.
Zijlstra, H., et al. (2021-1). Spatial Building Typology - Vacant Heritage: Department Stores | V&D's. Delft: BK-BOOKS https://books.bk.tudelft.nl/press/catalog/book/790 .
Zijlstra, H. & L. Meijers & W. Quist & J. Dos Santos Gonçalves (2021-2). Studio Tekst. HA Vacant Heritage Politie Bouwmeester. Fall 2021 – 2021.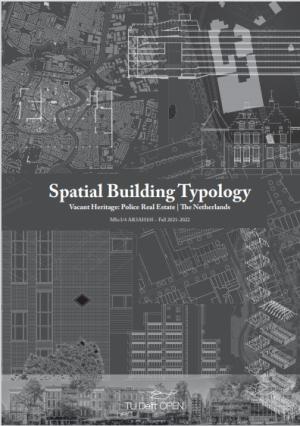 Downloads
Categories
Copyright (c) 2022 Hielkje Zijlstra (editor), Lucca Fischer (editor), Noah van Asselt (editor), Tjeu de Gouw (editor)
License
This work is licensed under a Creative Commons Attribution 4.0 International License.
Details about the available publication format: Download PDF
ISBN-13 (15)
9789463665339
Publication date (01)
2022-06-09