Complex Coastal Systems: transdisciplinary learning on international case studies
Keywords:
coastal management, systems analysis, social-ecological systems, integrated environmental management, estuaries, inlets and bays, tidal inlet
Synopsis
The transdisciplinary research synthesised in this book represents an endeavour by a group of coastal researchers and policy analysts to learn from a cross-comparison of seven international case studies on tidal inlet or estuary mouth management situations, located in South Africa, Sri Lanka, California, Suriname, Ireland and the Netherlands. The conceptual framing is provided by a focus on systems knowledge and its development and use within coastal management
This book is intended for:
Transdisciplinary scholars who are interested in interdisciplinary learning and knowledge exchange,
Policy analysts, environmental historians and coastal policy specialists who are interested in the role of science in the evolution of coastal policy and management,
Coastal scientists and engineers interested in the dynamics of tidal inlets and estuary mouths,
Coastal managers looking to learn about tidal inlet and mouth management practices
Educators focussed on interdisciplinary skills or interested in using the case studies in coastal, management and engineering classes or as the basis for problem structuring exercises by policy students, and
Students interested in coastal systems management and wanting to broaden their interdisciplinary competence.
This version is an Open Access revised edition.
Funder: NWO-Multi-actor Systems - Co-Designing Nature-based interventions in
Coastal Systems (grant number 850.13.043)
Chapters
Chapter 1: Introduction

Chapter 2: Texel Inlet Dynamics and Shoreline Management

Chapter 3: Integrated Coastal and Catchment Management of Dundalk Bay

Chapter 4: Climate Proof Management of Maha Oya Inlet, Sri Lanka

Chapter 5: Managing the Mouth of Russian River Estuary, California

Chapter 6: Advancing Mouth Management Practices in the Groot Brak Estuary, South Africa

Chapter 7: The Practice of Managing the Bigi Pan Multiple-Use Management Area in Suriname

Chapter 8: On the Role of System Understanding in the Slufter, Texel, the Netherlands

Chapter 9: Transdisciplinary Learning Across Case Studies
Downloads
Download data is not yet available.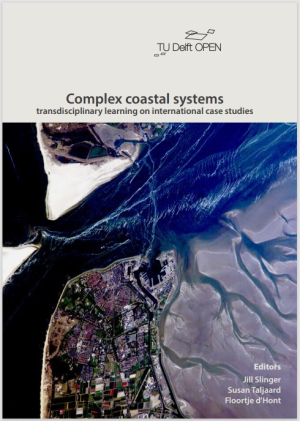 Downloads
Copyright (c) 2022 Jill H. Slinger (ed), Susan Taljaard (ed), Floortje M. d'Hont (ed), Aashna Mittal (Editorial support), Floortje M. d'Hont (Layout support and cover design)
License
This work is licensed under a Creative Commons Attribution 4.0 International License.
Details about the available publication format: Download PDF
ISBN-13 (15)
9789065624437
Publication date (01)
2022-05-31
Details about the available publication format: Order hard copy
Date of first publication (11)
2020-01-01