A Manifesto for the Just City : 2021 edition
Keywords:
Just City, Spatial Justice, New Urban Agenda, World Urban Campaign, Democracy, Participatory planning, Urban visioning, Manifesto
Synopsis
The Manifesto for the Just City comes in the wake of the realisation that socio-spatial justice is a crucial dimension for sustainability transitions. Growing inequality and the erosion of the public sphere undermine the social and political structures required to fight climate change, pandemics and other systemic shocks. At the same time, profound cynicism and scepticism have gripped our minds. This is paralysing us. Following the words of Professor Faranak Miraftab, we need to decolonise our minds, and try to imagine a different world and new kinds of relationships among ourselves and between us and the planet. This book aims to encourage students to formulate their own visions for the Just City and for a just transition.
The second volume of 'A Manifesto for the Just City', published by TU Delft Open and funded by the Delft Design for Values Institute, gathers texts from scholars discussing aspects of the just city (Professors Faranak Miraftab, Mona Fawaz, Mariana Fix, Romola Sanyal, Roberto Rocco and Caroline Newton) and showcases 63 manifestos written by 256 students from 48 universities all over the world.
Downloads
Download data is not yet available.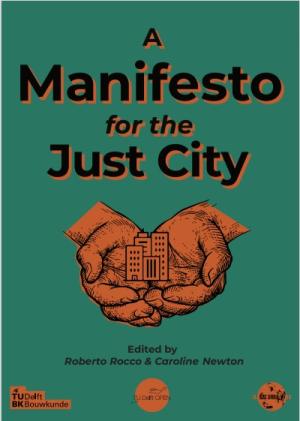 Downloads
Copyright (c) 2022 Roberto Rocco, Caroline Newton
License
This work is licensed under a Creative Commons Attribution 4.0 International License.
Details about the available publication format: Download PDF
ISBN-13 (15)
978-94-6366-561-2
Publication date (01)
2022-06-01