Future Cities—City Futures: Emerging Urban Perspectives
Keywords:
future cities, urban challenges, urban future, quality of urban life, urban decarbonization
Synopsis
The book is about future cities and possible scenarios for city futures. A question central to this book is how to face urban challenges while providing and safeguarding positive outcomes, concerned with the improvement of the quality of urban life: How can future cities be made more liveable, sustainable, and resilient? How can cities continue to provide a wide range of opportunities for all necessities of life? To tackle these complex questions, the book includes a collection of 25 articles written by 37 emerging voices in urban design and research. Together, they contribute from a diverse spectrum of interest, expertise, academic disciplines, and practice. They approach the built environment from a socio-cultural, respectively socio-economic perspective, from the viewpoint of urban policy and public health, with environmental concerns for urban sustainability and circularity in mind, and through the lens of urban computer and data science, providing a take on urban digitalization and transformation of cities into 'smart' cities. Together, their contributions reflect the complexity and diversity of challenges and opportunities underpinning future cities.
Future Cities—City Futures intends to be a platform for trans-disciplinary urban discourse.
Downloads
Download data is not yet available.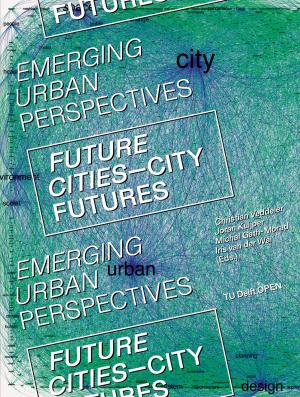 Downloads
Copyright (c) 2023 Christian Veddeler (ed), Joran Kuijper (ed), Michal Gath-Morad (ed), Iris van der Wal (ed)
License
This work is licensed under a Creative Commons Attribution 4.0 International License.
Details about the available publication format: Download PDF
ISBN-13 (15)
9789463666428
Publication date (01)
2023-04-13