CA2RE+ Delft Recommendation: Conference for Artistic and Architectural Research & Collective Evaluation of Design-driven Doctoral Training Programme
Keywords:
Design-driven doctoral research, design-driven research recommendation, architectural research, artistic research
Synopsis
CA2RE / CA2RE+, the Conference for Artistic and Architectural Research, is dedicated to promoting Design-Driven Doctoral Research (DDDr) through its conference series. This initiative aims to strengthen and expand the community of researchers interested in this subject. The Faculty of Architecture and the Built Environment at Delft University of Technology has gladly provided the platform for this noteworthy conference.
The central theme of this event revolves around the "RECOMMENDATION" for Design-Driven Doctoral Research. This theme is a natural progression from the main topics explored in the previous CA2RE+ conferences, which included OBSERVATION, SHARING, COMPARISON, REFLECTION, and FRAMEWORK. The CA2RE+ Delft conference seeks to scrutinize the progress made thus far and endeavors to formulate guidelines and recommendations for the establishment, introduction, development, and evaluation of DDDr.
Downloads
Download data is not yet available.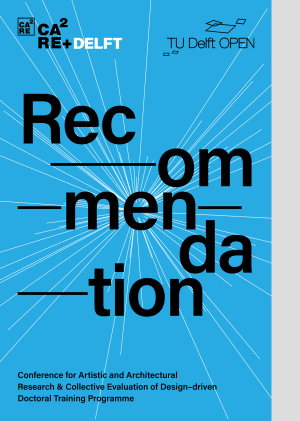 Downloads
Copyright (c) 2023 Roberto Cavallo (ed), Alper Alkan (ed), Joran Kuijper (ed)
License
This work is licensed under a Creative Commons Attribution 4.0 International License.
Details about the available publication format: Download PDF
ISBN-13 (15)
978-94-6366-660-2
Publication date (01)
2023-11-15