Proceedings CLIMA 2022: The 14th REHVA HVAC World Congress
Keywords:
Advanced HVAC Systems, Indoor Environmental Quality, Indoor Infection Risks, Indoor Air Quality, Thermal Comfort, High Energy Performance Buildings, Circular Buildings, Building & HVAC Simulation models, Smart Buildings, Smart & Predictive Control, Intelligent Building Energy Management Systems, Systems; Zero-energy Buildings, Energy Transition, Energy Systems for Cities, HVAC Learning Communities, Digitization in Buildings, CLIMA2022, REHVA World Congress
Synopsis
The 14th REHVA HVAC World Congress CLIMA2022 challenges advances in technologies for smart energy transition, digitization, circularity, health and well-being in buildings. How can we create circular buildings, fully heated, cooled and powered by renewable energy? How can we design human-centered indoor environments while mastering life-cycle costs? How can we also include their integration into infrastructure for energy, health, data and education?
Downloads
Download data is not yet available.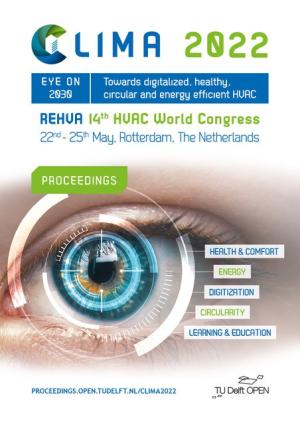 Downloads
Copyright (c) 2022 Laure Itard (ed), Lada Hensen-Centnerová (ed), Atze Boerstra (ed), Philomena Bluyssen (ed), Jan Hensen (ed), Tillmann Klein (ed), Marcel Loomans (ed), Pieter Pauwels (ed), Christian Struck (ed), Martin Tenpierik (ed), Bob Geldermans (ed)
License
This work is licensed under a Creative Commons Attribution 4.0 International License.
Details about the available publication format: Download PDF
ISBN-13 (15)
978-94-6366-564-3
Publication date (01)
2022-10-12