City of the Future Graduation Lab: Experiences in Multidisciplinary Education
Keywords:
City, Future, Multidisciplinarity, Design, Education, Engineering, Graduation Lab, Built Environment, Architecture, Urban Design, Management, Geomatics, Transport, Infrastructure, Logistics, Collaboration
Synopsis
The Cross Domain City of the Future Graduation Lab, situated in the Faculty of Architecture and the Built Environment at TU Delft, has been a pioneer in experimenting with a multidisciplinary approach to education on the built environment. Drawing upon this expertise over the past years, this book reflects on multidisciplinarity in the built environment and its implementation in education on the built environment. How should one approach multidisciplinarity in education and practice? What encompasses its core elements, benefits, and challenges?
By addressing these questions, the book aims to inform students and practitioners within the realm of the built environment by sharing insights from experiences in multidisciplinary education. It presents eight conclusions regarding the future of multidisciplinary education and, thereby, seeks to contribute to a more humane and sustainable future for cities:
Process is central to multidisciplinary collaboration. Negotiating positions, ensuring an environment of respect, balance and open-mindedness, and setting a common vocabulary.
Multidisciplinarity can be a way to foster innovation. It triggers complementarity and confrontation. As with any innovation, there is potential for greater outcomes, but, at the same time, extra risks emerge. These need to be managed.
Multidisciplinarity could be better integrated into organisational structures.
Disciplinarity and multidisciplinarity are in mutual coexistence. They are inseparable. They can complement and contradict each other.
Problem precedes solution, not the opposite. Framing the problem, or 'problematizing', is a considerable share of the actual solution. This is particularly applicable to multidisciplinarity.
Multidisciplinarity is by nature composed of fluid boundaries. Navigating through an enormous diversity of perspectives requires agility, flexibility, independence, spirit of adventure and embracing uncertainty.
Professionals should be trained as 'T-shape': grounded in their field while able to dialogue with other fields.
Both generalists and specialists are needed. Education should provide opportunities for both.
Downloads
Download data is not yet available.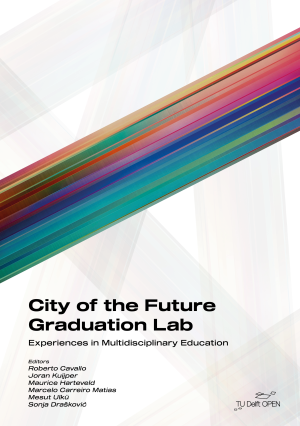 Downloads
Copyright (c) 2023 Roberto Cavallo (ed), Joran Kuijper (ed), Maurice Harteveld (ed), Marcelo Carreiro Matias (ed), Mesut Ulkü (ed), Sonja Drašković (ed)
License
This work is licensed under a Creative Commons Attribution 4.0 International License.
Details about the available publication format: Download PDF
ISBN-13 (15)
978-94-6366-686-2
Date of first publication (11)
2023-09-04