A Manifesto for the Just City: Volume 3
Keywords:
Just City, Spatial Justice, Hope & Care, Spatial Planning.
Synopsis
This is the third volume in the "Manifesto for the Just City" series published by TU Delft OPEN Publishing. This is a project spearheaded by the Centre for the Just City at the Delft University of Technology. The Manifestos in this book endeavour to envision alternative, positive urban futures as a counterpoint to prevailing cynicism and political disillusionment. This exercise is largely based on the ideas of Professor Faranak Miraftab on practices of hope and decoloniality. 
The 81 Manifestos written by 313 students from 63 universities around the world come in the wake of a four-part workshop in October 2022, in which TU Deft together with its many partners, invites students from all over the world to listen to the accounts of leading academics and practitioners whose knowledge touches aspects of spatial justice and to articulate their own ideas for what makes the just city. The scholars invited in 2022 included Professor Faranak Miraftab from the University of Illinois at Urbana Champaign, US, Professor Clarissa Freitas from the Federal University of Ceará in Fortaleza, Brazil, Dr. Gynna Millan Franco from the Universidad del Valle in Cali, Colombia, Professor Vanesa Castán Broto from the University of Sheffield in the UK and Professor Hiba Bou Akar from Columbia University in New York, US. Teachers from around the world who use the Manifesto as a class exercise have also contributed with short essays.
The Centre for the Just City was set up at the Faculty of Architecture and the Built Environment at the Delft University of Technology in response to the pressing challenges of rampant social inequalities affecting the cohesion and the sustainability of cities and communities. Recognising the vital need to address these issues, the Centre emerged as a platform for research, education, and outreach activities for the creation of just cities. Since its inception, the Centre has been at the forefront of bridging theory and practice, fostering collaborations, and influencing policies and actions that contribute to making cities equitable, sustainable, and inclusive. For more information, please visit https://just-city.org.
Downloads
Download data is not yet available.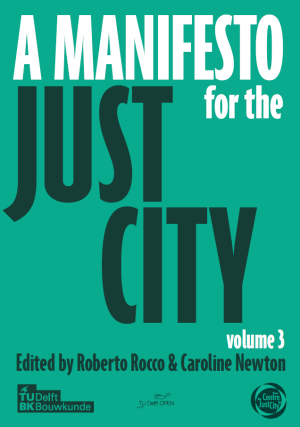 Downloads
Copyright (c) 2023 Roberto Rocco (editor), Caroline Newton (editor)
License
This work is licensed under a Creative Commons Attribution 4.0 International License.
Details about this monograph
ISBN-13 (15)
978-94-6366-746-3
Date of first publication (11)
2023-09-24